Honed Tubing - Hydraulic Honed Tubes
The honed tubes suitable for various kinds of Precision Mechanical Tubes, honed cylinder tubing and Hydraulic Cylinder, Construct use Multi Joint Tubes, Steel Axis Pipe, Injection Machine and Robotic Arm.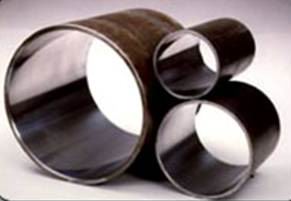 Product ID: HT-ST
The feature of Honed Tubing:
After honed the carbon steel tube has a precision diameter, smooth surface and a best roughness.

Has an excellent performance of oil storage, can be work smoothly without pauses, and also has a longer working life.
Honed Cylinder Tube
Internal Diameter Accuracy :H7, H8, H9
Internal Roughness:Ra0.2 ~ 0.8um
Standard Length: 3 ~ 8 meters
Standard Size of External: OD20 ~ 420mm
Standard Size of Internal: ID18 ~ 350mm
Material: JIS G3445 STKM 13C or Mechanical Construction Use Pipes
Other Specification and requirement can be customers make.
Carbon Steel Pipes for Machine Structural Purposes JIS G3445/G3444
Composition & Mechanical Property

Symbol

Chemical composition %

Tension test

C

Si

Mn

P

S

Kg/mm2
Yield point
Kg/mm2


Tensile Strength

%
Elongation
STKM 13C

0.25


Max.

0.35


Max.

0.30
|
0.90

0.040

Max.

0.040

Max.

39 Min.

52 Min.

15 Min.

STKM 13A

0.25


Max.

0.35


Max.

0.30
|
0.90

0.040

Max.

0.040

Max.

38 Min.

22 Min.

30 Min.
This is the detailed information for Honed Tubes. The information includes name,features, description and specification for Honed Tubes. Related Keywords:Hone Tubes, Hone Tubes, Honed Tubes, Honed Tube,Honed Pipe,Honing Tube,Honing Tubes, Honing Pipe, pipe honing, honed tubing,honed steel tube,Seamless Stainless Steel Honed Pipe, Seamless Stainless Steel Honed Tube, Seamless Stainless Pipe, Seamless Stainless Steel Honed Pipes,, Honed Pipe, Steel Honed Pipe, Stainless Steel Honed Pipe, Honed Tubes.